DVDs:
Ka Huna Bodywork & Healing Skills


Introduction to "Lomi Kapa Lele"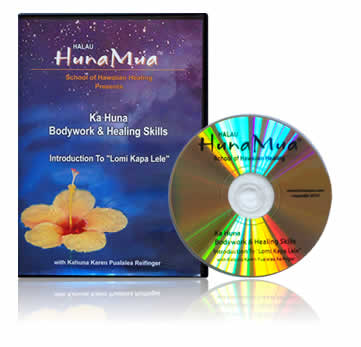 Product Description:
Halau Huna Mua: School of Hawaiian Healing
Presents
Ka Huna Bodywork & Healing Skills
Introduction To "Lomi Kapa Lele" with Kahuna Karen Pualalea Reifinger
This video presents fundamental old and new Hawaiian Healing concepts as applied to healing of body, mind and soul and the integration of soul consciousness to access more profound states of wellness. The style of Hawaiian Touch Medicine in this video is a powerful transformative approach to bodywork. Based on the philosophy that all things seek harmony and love, Lomi Kapa Lele ("to give flight to the Spirit") combines flowing forearm movement, stress-free body mechanics, conscious breath and awareness to restore physical harmony and integrity in the body. The style draws deeply on the ancient Hawaiian martial tradition called Lua, as well as ocean wave action.
Karen Reifinger is a practitioner, instructor and recognized expert in the field of Hawaiian healing and spiritual development. Her skills and experience include a spectrum of traditional and non-traditional approaches to restore physical integrity and inner harmony to body, mind and soul. As founder and director of Huna Mua Wellness in Philadelphia, PA, Karen blends the revered healing arts of Hawai'i with quantum state-of-the-art energy technology. She offers a variety of workshops, retreats, and other bodywork programs at massage schools, universities and private locations around the world. Karen is Kumu Kahu Kahuna Lapa'au, initiate in the Order of Ku, Order of Kane and the Order of 'Olohe. She is a member of the American Integrative Medical Association, Doctor of Metaphysics, Certified Healing Touch Practitioner, Certified Massage Therapist and Reverend Minister. Karen is an approved continuing education provider for the NCBTMB and the State of Florida.


SUGGESTED USE:
PERSONAL SESSION: By watching this video you can receive a phenomenally deep session. To optimize the benefits, set aside 40 uninterrupted minutes. Inhale and exhale gently focused breath. Turn up the volume. Allow the video to play. Feel the cascading waves massaging sunlight and wellness deep into your bones. Rejuvenating. Refreshing. Awakening.
TRAINING: Use this video as an introduction to the Hawaiian Healing Arts or as a support video following your LomiLomi Training. This is not a video from which to learn LomiLomi or Huna. Understanding and study of the Hawaiian Healing Arts is received only under the mentorship, apprenticeship or training of a qualified instructor.


CREDITS:

Video Production: Angelo T. Mattei
Photo Credits: Karen Reifinger
Running Time: 36:14 minutes
Copyright 2010 All Rights Reserved.